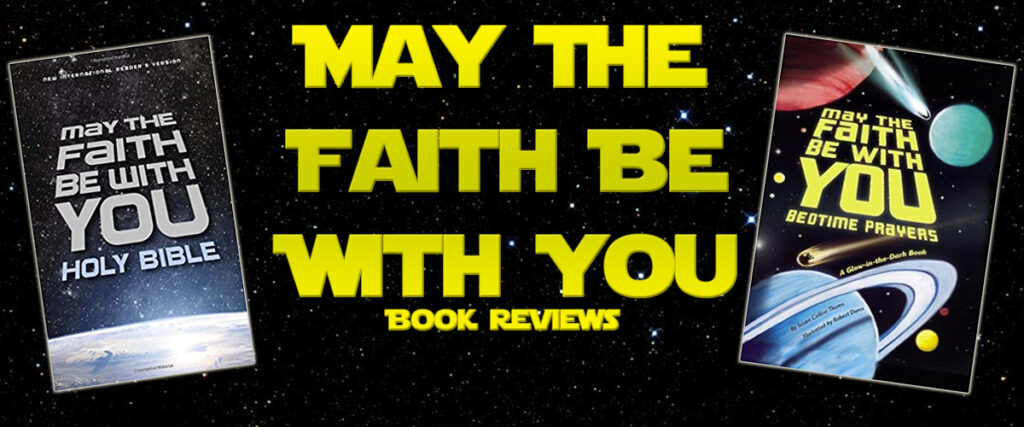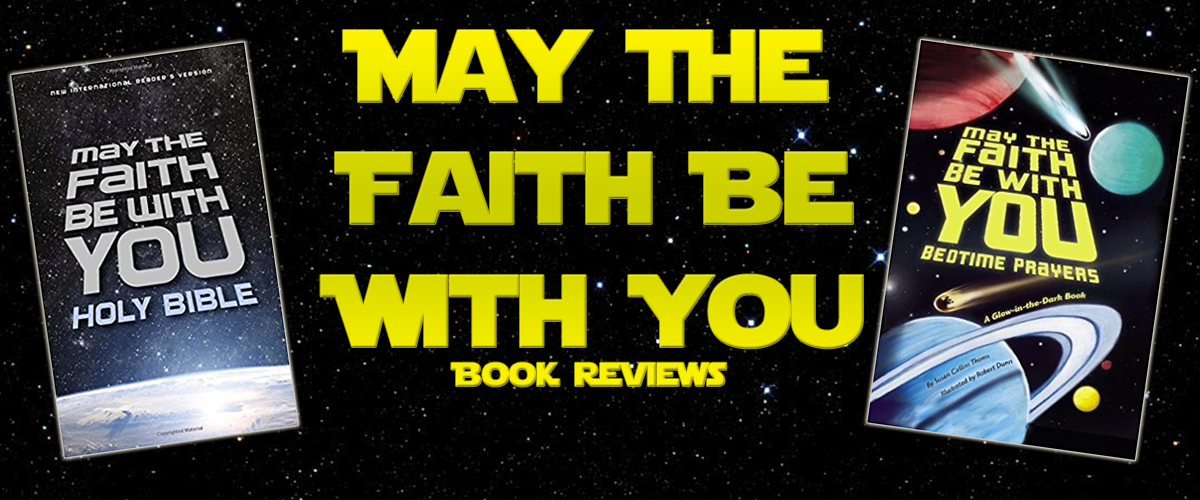 Star Wars continues to gain popularity, being passed from generation to generation.
The Church has also come to embrace Star Wars as a means to an end; sharing the Gospel with the whole world.
Recently I was given advanced copies of both May the Faith Be With You: Bedtime Prayers (Affiliate Links)* and NIrV May the Faith Be with You Holy Bible(Affiliate Links)* and was asked for an honest review.
May the Faith Be With You: Bedtime Prayers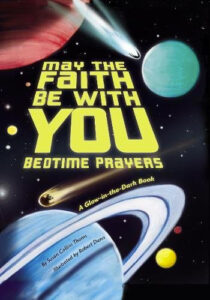 This book from Zonderkidz.com is written to reach 4-8-year-olds and I think it goes a good job of that.
Some of the prayers do have some tough words; like tremendous and constellation. I do think that the rhyme will help younger readers figure out the tougher words.
As a father and Star Wars fan, it is something that I would certainly read with my kids. Alas, my youngest is 9.
While it doesn't specifically make reference to Star Wars, the space theme does make me think of Star Wars.
When she saw the book, she eagerly asked to read it(because she saw the Star Wars themed cover). Less than 8 minutes later, she came back having read all 30 pages.
She has read it a few more times and has actually already memorized one of the prayers.
As a Christian father, I was excited that there was a corresponding Scripture verse for each of the prayers. Each page's verse, based on the NIV, helps to show how the prayer connects with the Word of God.
The book is supposed to be "a glow-in-the-dark book" but only the cover glows for me. It might be since I didn't let the inner pages absorb enough light. Don't let that deter you from buying the this as a gift for the younglings in your life.
NIrV May the Faith Be with You Holy Bible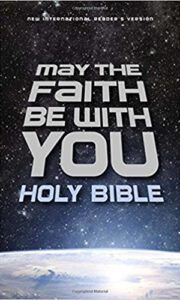 I am not the target audience for the NIV Reader's translation. For those that are; youth, English as a second language, this translation and the sections that this Bible contains for study are an excellent fit.
These study sections, written for 6-10-year-old reading level are well-written and thought-provoking.
The sections fall into "Master Moment", "Ways of Wisdom", and "Use The Force". Each is designed to teach us about amazing people and events in the Bible, provide answers to big questions, or to apply what the reader has learned.
One of the "Master Moment" sections deals with complex issues; like sin, repentance, Heaven, Hell, and more, in terms that are age-appropriate.
One "Ways of Wisdom" section addresses "Questions About Jesus". This thought-provoking set of questions is not just for kids. While written for a 6-10-year-old, the answers given could easily be used to address an adult's questions about Jesus.
One "Use The Force" section addresses the Fruit of the Spirit and offers a challenge to show the fruit in our lives.
If you know someone that is in the NIrV target audience, this Bible would be very helpful.
Key Take-Aways
Both of these books are a good fit for their target audience.
If you are looking for a Bible study based on Star Wars, these books are not going to be what you are looking for.
If you want an exciting way to get kids to into God's Word, I think both of these books can do that.
If you would like to purchase either May the Faith Be With You: Bedtime Prayers (Affiliate Links)* or NIrV May the Faith Be with You Holy Bible(Affiliate Links)* you can do so through these affiliate links. I may receive a small commission if you purchase them through my links.
---
*This page contains affiliate links meaning I may earn a commission if you use those links. I only recommend books I have read.
Check out my 100% Guarantee
.