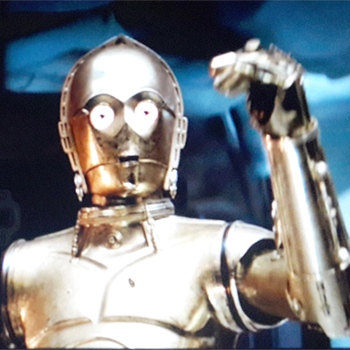 What good is it if you are like C3PO and are "fluent in six million forms of communication" but are unable to truly communicate?
Mark Twain is credited with the following, "a person who won't read has no advantage over one who can't read."
The same holds true for communication. So whether you are "fluent in six million forms of communication" or not, we need to learn the art of communication.
6 Million Forms of Communication But Are We Connecting
Earlier this month my family and I went out to celebrate my youngest daughter's birthday. While waiting for our chips and salsa, I looked around the restaurant and was surprised at how many people actually had their smartphones either in their hand or on the table – face up. Then I noticed mine was on the table, but at least it was face down.
It was kind of depressing.
We have some many forms of communication. There are social media platforms(with their posts, pins, tweet, etc.), email, text message, Skype, actual phone calls, in person, etc. But are we really communicating? Are we able to have conversations?
Free Training From Michael and Gail Hyatt
On March 28, 2017, you'll be able to get free training from Michael and Gail Hyatt.
If you don't know who Michael Hyatt is, he was the president and CEO of Thomas Nelson Books. He is a successful author, podcaster, and blogger. He has become one of the foremost experts on communication in our digital world. His book, "Platform: Get Noticed in a Noisy World", is a New York Times, Wall Street Journal, and USA Today bestseller. I know that it has helped me with my blogs and business. He also runs PlatformUniversity.com (which I was once a member of.)
Michael will be the first to tell you that his work is not the most important thing in his life. The most important thing to him is his family (he has even gone so far as to cut back his speaker schedule to spend time with his family- leaving tens of thousands of dollars on the table). He's been happily married for more than 38 years to his wife, Gail. They are the proud parents of five daughters (and four sons-in-law) and eight grandchildren.
In this free training* they will share with you the one rule they implemented at mealtime that had a profound effect on the way their family connected with each other. And it's so simple, you can make the same change today!
Click this link to hear Challenge number 2 from the Hyatts*. This is part of the of 7-Day Challenge from Ziglar Family.
Please join us for this free training.
This one simple rule implemented at dinner could have a huge impact on how well your family communicates. Check out what the Hyatt's are sharing today!
---
* I am an affiliate for this program. If you purchase the Thrive Membership or VIP Membership, I earn a small commission that helps keep the site up and running.