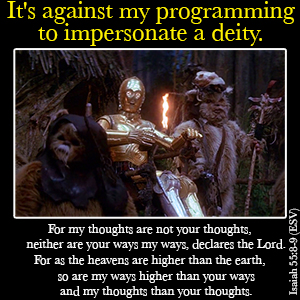 Threepio was right on. We shouldn't try to pretend to be God.
The problem is, a lot of people try to impersonate God- both inside and outside of the church.
We need to remember that "for my thoughts are not your thoughts, neither are your ways my ways, declares the Lord." Isaiah 55:8(ESV)
Would should listen to Paul when he tells us in Romans 12:3 "For by the grace given to me I say to everyone among you not to think of himself more highly than he ought to think, but to think with sober judgment, each according to the measure of faith that God has assigned."
How do you stay humble?