If you've seen The Phantom Menace and live in the Western World, it easy to see the clear attempt to make Anakin's birth into one like Jesus'.
While talking with Shmi, Qui-Gon notes that "The Force is unusually strong with him [Anakin], that much is clear." He then inquires "Who was his father?"
Shmi somewhat sheepishly states "There was no father, …I carried him, I gave birth, I raised him… I can't explain what happened."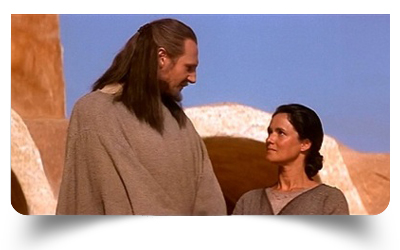 This is clearly a statement that makes Anakin's birth a virgin one. Combine this with Qui-Gon's eventual belief that Anakin is the fulfillment of the prophecy and you can see how Anakin is supposed to be some sort of Savior.
He will bring balance to the Force.
In Luke 1:26-38 we see the angel Gabriel visiting Mary to announce that Mary "will conceive in your womb and bear a son, and you shall call his name Jesus." (Luke 1:31 ESV)
Like Shmi, Mary is confused
But unlike Shmi, Mary then asks how this will happen, since she is a virgin (Luke 1:34). Gabriel answers her that this will occur because "The Holy Spirit will come upon you, and the power of the Most High will overshadow you; therefore the child to be born will be called holy—the Son of God." (Luke 1:35 ESV)
In verse 38, Mary gracefully accepts this announcement and states "Behold, I am the servant of the Lord; let it be to me according to your word."
There was a purpose for Jesus to be born of a virgin. It was the fulfillment of the prophecy from Isaiah 7:14.
The ESV translates it as "Therefore the Lord himself will give you a sign. Behold, the virgin shall conceive and bear a son, and shall call his name Immanuel."
The prophecy that Anakin would bring balance to the Force pales in comparison to God sending Jesus to redeem the world.
In John 3:16-17(ESV) we read "For God so loved the world, that he gave his only Son, that whoever believes in him should not perish but have eternal life. For God did not send his Son into the world to condemn the world, but in order that the world might be saved through him." (emphasis added)
Anakin eventually grows up and falls into evil. Jesus "committed no sin, neither was deceit found in his mouth." (1 Peter 2:22 ESV). In Hebrews 4:15 (ESV) we read "For we do not have a high priest who cannot sympathize with our weaknesses, but One who has been tempted in all things as we are, yet without sin."(emphasis added)
The only true virgin birth occurred nearly 2000 years ago in Bethlehem when Jesus the Christ was born.