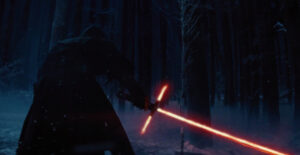 There has been a lot of debate lately about the new lightsaber in the Force Awakens trailer.
That got me thinking about how we as Star Wars fans get a bit obsessed with things. As a Christian, I wonder how many other Christians are getting caught up in the three prong, Claymore lightsaber debate.
Lightsabers are cool, no doubt! They are the weapon of a Jedi Knight- much more civilized than a blaster.
It reminds me that in Ephesians 6, when Paul is talking about putting on the full armor of God, the only offense of weapon he mentions is the sword of the Spirit, which is the word of God (6:17b). That is to say, Scripture.
We know from 2 Timothy 3:16 that "all Scripture is breathed out by God and profitable for teaching, for reproof, for correction, and for training in righteousness".
And Hebrews 4:12 we read "For the word of God is living and active, sharper than any two-edged sword, piercing to the division of soul and of spirit, of joints and of marrow, and discerning the thoughts and intentions of the heart."
What if?
What if Christians spent more time analyzing Scripture than lightsabers?
I remember seeing Luke get his first lightsaber from Obi-Wan Kenobi. One of the first things he does is to switch it on and start to wave it around. Not the smartest thing to do. It's an easy way to get yourself maimed or killed.
Christians aren't much safer with how they handle the sword of the Spirit. We often handle it much the same way as it did with his lightsaber, carelessly.
Do we truly believe?
Do we truly believe the Bible is the word of God?
Did you know that its original languages are Hebrew, Aramaic, and Koine Greek? Most of us read in English translation. Do you know or care how the translators brought the Greek and Hebrew into English? Was it word for word translation? Or a translation based on thought for thought? Or is it not even a translation, but a paraphrase?
If you want to know, look at the preface of your Bible or the chart below.
Word-For-Word
Interlinear
NASB – New American Standard Bible
AMP – Amplified Bible
ESV – English Standard Version
RSV – Revised Standard Version
KJV – King James Version
NKJV – New King James Version
Thought-For-Thought
HCSB – Holman Christian Standard Bible
NRSV – New Revised Standard Version
NAB – New American Bible
NJB – New Jerusalem Bible
NIV – New International Version
TNIV – Today's New International Version
NCV – New Century Version
NLT – New Living Translation
Paraphrase
NIrV – New International Reader's Version
GNT – Good News Translation (also Good News Bible)
CEV – Contemporary English Version
TLB – The Living Bible
MSG – The Message
The examples of Bible translations is not meant to be all inclusive, but rather a listing of some of the more popular.
What does each type mean?
A word-for-word translation is just was it sounds like. It is when you translate text from one language to another, one word at a time. This can be done with or without conveying the sense of the original whole.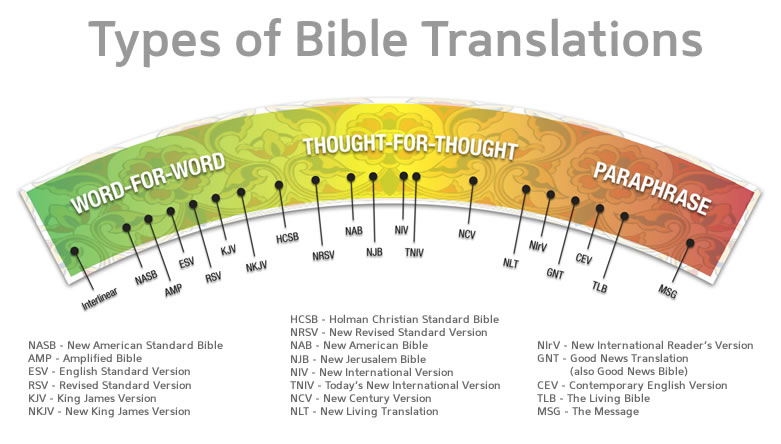 The thought-for-thought translation tries to express the meaning of each sentence or paragraph from the original language in simple up-to-date English. This can be done with our without being tied to translating every word.
A paraphrase uses modern language and idioms to try to capture the thought and essence behind the original text. It is more of a rewording of an English translation than a translation in the proper sense.
What will you do?
The translation you pick will make a large impact on how you read and possibly understand God's word.
Spend more time studying God's word then what the new lightsaber looks like.
In the comment section below share with us what translation you read and why.