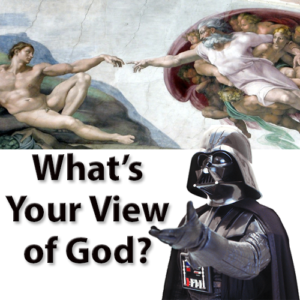 For many people, they view God solely based on their experiences.
If they had a good relationship with their fathers, they can more easily relate to God as a loving father.
If they experienced a fire and brim stone preacher, they can view God as a tyrant, looking to send people to hell.
Regardless of our experiences, we all have less than perfect views of God.
God is God and we are not. We are temporal and He is eternal. He is Spirit and we are flesh and blood.
It's Hard To Get A Complete Picture
It is impossible to know all who of God is.
We can get glimpses.
Even for people like Noah, Moses, Elijah, and others in Scripture that have talked with God and have experienced being in His presence in a very real way, it was difficult for them to see and understand who God is.
According to Genesis chapters 6 through 9, Noah had actual conversations with God.
The same can be said of Moses. He talks with God during his encounter with the burning bush (see Exodus 3). During the Israelites wandering in the desert, God appeared to them as a pillar of fire and a pillar of smoke (see Exodus 13:21-22).
Moses is one of the most loved and respected people in the Old Testament, but even he didn't have a complete picture of who God is.
Elijah encountered God while he was hiding in a cave. In 1 Kings 9 we see that the LORD passed by, and there was a great and strong wind that tore at the mountains. The wind broke the mountain into pieces of the rocks. The LORD was not in the wind nor the earthquake that followed, nor the fire that followed the earthquake. The LORD showed up in the sound of a low whisper (see the who event in 1 Kings 19:9-18)
God Is Not Like Darth Vader
For those that see God as a tyrant looking to send people to hell, God looks a lot like Darth Vader as Vader deals with Admiral Ozzel.
As a little bit of a reminder, Admiral Ozzel has just brought the Empire's fleet out of hyperspace very close the Hoth system in hopes of surprising the Rebels. In doing this, Ozzel inadvertently allowed the Rebels to detect the fleet and put up an energy field strong enough to deflect any bombardment from space the Empire might do with their Star Destroyers.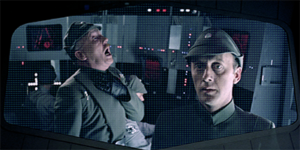 This more than frustrates Vader who then activates a view screen. As the admiral is about to explain what he has done, Vader kills him with a Force choke.
God is not like this.
God does not have a "sin counter" on us that when we reach a certain amount of sin, He kills us or sends us to hell.
Just the opposite. God sent His Son Jesus to come into the world and reconcile us to Him (see John 3:17). For those He loves and love Him, Psalm 103:12 tells us "as far as the east is from the west, so far does he remove our transgressions from us."
God is patient towards us. He does not want any person He created to perish. In fact, God wants all of us to come to repentance (See 2 Peter 3:9).
We are told in 1 John 4:8 that God is love. If you replace love with God in 1 Corinthians 13:4-8a you get:
Love is patient and kind; God does not envy or boast; God is not arrogant or rude. God does not insist on His own way; God is not irritable or resentful; God does not rejoice at wrongdoing, but rejoices with the truth. God bears all things, believes all things, hopes all things, endures all things. God never ends.
Does God Punish Sin?
Yes.
God will punish sin. There are no ifs ands or buts about it.
God is a jealous God. We are told this in Exodus 20:5 and Exodus 34:14 (click for the definition for jealous in the Hebrew)
God is perfect and cannot let imperfection into heaven. We are told in Romans 3:23 that all have fallen short of God's glory and standard.
The wages of sin is death, we are told in Romans 6:23. We will eventually have to pay for our sins with our physical lives.
Death has a hold on our physical bodies. With few exceptions (Enoch, Elijah, those alive when Christ returns), we will all taste physical death.
That death should not be feared. The death that we should fear is eternal death- eternal separation from God. Unless we reconcile with God before we draw our last breathe, we will face an eternity separated from God.
We will all live for eternity. The issue we need to address is where we will be living.
Will we be living in heaven with God or live forever in eternal torment with Satan and his demons?
Jesus Overcame Death
In Paul's first letter to the Corinthians, he reminds us at the end of chapter 15 that "flesh and blood cannot inherit the kingdom of God" (verse 50). In order to do so "this perishable body must put on the imperishable, and this mortal body must put on immortality" (verse 53).
How do we do this? Through accepting and believing in Jesus's death and resurrection.
Earlier in verse 20, Paul told the Corinthians that "in fact Christ has been raised from the dead". Since Jesus has been raised from the dead and "if you confess with your mouth that Jesus is Lord and believe in your heart that God raised him from the dead, you will be saved" (Romans 10:9).
By putting your faith and trust in Jesus as the Christ, the Messiah you will be saved.
Believing in the facts about Jesus and God are not enough.
Demons knew that Jesus was the Son of God (see Matthew 8:28-31), but they will not be in heaven. Satan and his demons will be cast in the lake of fire and sulfur, ie. hell (see Revelation 20:10).
We also read in James 2:19 "You believe that God is one; you do well. Even the demons believe—and shudder!"
These demons now about God and about Jesus but have not become a disciple of Jesus nor have they put their trust in Him.
Will you put your trust in Jesus today? Will you become His disciple, become a learn of Him? Will you let Him direct your paths?
Make your decision while you still have breathe.