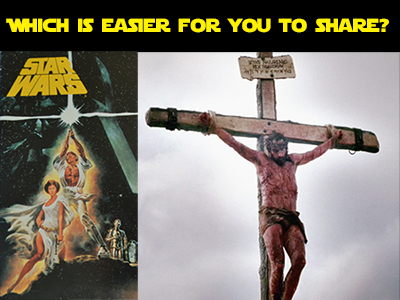 Recently I was talking with some Christian friends of mine and we are discussing why Christians don't share their faith. There a lot of different reasons that they gave, but I think we can boil most of them down into one of three categories.
Their fire has gone out (lost passion)
"The Jedi are extinct, their fire has gone out of the universe. You, my friend, are all that's left of their religion."
The older a Christian gets (or the longer they've been a Christian), there is a tendency for the passion that one has to start to dwindle. When you first start dating or courting someone, there was an excitement, a passion, that you just can't get enough of. If you talk to some couples who have been married for very long time, there seems to be a trend towards being comfortable, getting into a rut.
The word passion (from the Latin verb patere meaning to suffer) is a term applied to a very strong feeling about a person or thing.
When Peter and John were arrested and brought before the Council (Acts 4:1-21), they were put on the spot to defend what they were doing and speaking for they had healed a man and were preaching the name of Jesus.
When the religious leaders asked Peter and John, to stop speaking about Jesus, they replied, " for we cannot but speak of what we have seen and heard." (Acts 4:20).
Their hearts were filled with awe for Jesus and His work for them; thus, there was no way they could be silent.
When Jeremiah considered not speaking for the Lord, he realized he could not hold the message inside without exploding: "If I say, 'I won't mention Him or speak any longer in His name," His message becomes a fire burning in my heart, shut up in my bones. I become tired of holding it in, and I cannot prevail" (Jeremiah 20:9).
Whatever we find amazing, we share. We spread what we are in passionate about.
They don't feel like they know enough
Another reason is that people don't think they know enough about the Bible, Christianity, or church history to be able to talk to people.
Returning to Acts 4, when the leaders "saw the boldness of Peter and John, and perceived that they were uneducated, common men, they were astonished. And they recognized that they had been with Jesus." (Acts 4:13 ESV, emphasis added.)
You don't need to know a lot about church history, apologetics, or theology to share your faith. You just need to be able to recognize what God has been doing and currently doing in your life- then share that.
If you are walking with Jesus, you will be changed. Talk about your experiences. Hopefully you can explain what your life was like before your encounter with Jesus and how walking with Him has changed your life.
They don't know how to start the conversation
How do you start a conversation about faith in Jesus Christ? Just like you would any other conversation. You look for keywords or phrases that you hear the person using. If a person makes a reference to religion or the afterlife, those are very easy conversations to start.
How do you start a conversation when there is no reference to religion or the afterlife? You still look for keywords.
Most of us know Star Wars quotes. Ever use them in a regular conversation? Probably so.
Somebody might say that they have a bad feeling about something or they can't believe something happened. Did any of the scenes in which the quote bad feeling Star Wars quote came to mind?
What about your eyes deceiving you- don't trust them?
Did you hear the word disturbing or good, do these bring to mind any Star Wars scenes?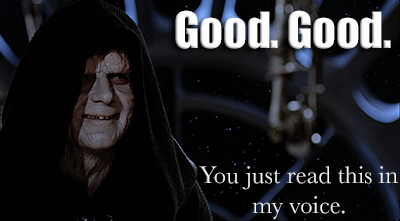 Movie lines are an easy transition into talking about that particular scene. I cannot help but think of Darth Vader anytime I hear someone say the word disturbing. Or somebody repeats the word good two or three times, I can't help but think of the Emperor in Return of the Jedi. Did you look at they picture and read "Good. Good." in his voice? Most of you did- my point exactly.
When you hear those words of disturbing our good use those that start talking about the scene, and then those scenes will lead into transitions into talking about biblical ideas. If you talk about something being disturbing, Vader was talking about finding his lack of faith disturbing. Faith is now entered the equation because you were talking about that scene. Talk about your faith, talk about what faith is, talk about the person's faith.
Conclusion
In order to share your faith, you need to have a passion for Jesus, a passion for the lost, an eye to see what God is doing in your life, and the ability to start a conversation. Part of this blog is designed to help you start this conversation.
We will look at different quotes and scenes from the movies, and show you how those can be used to start conversations. We will also look at how you can strengthen your knowledge, not only of Star Wars, but more importantly of Scripture.