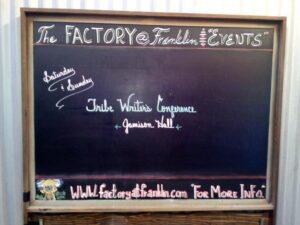 You ever try to drink from a fire hose? It isn't a good idea.
Currently I am attending Jeff Goin's Tribe Conference and I am learning a ton, but it's like drinking from a fire hose.
If you ever wanted to write or be a creative, this conference is for you. I will guarantee you will walk away from it with at least one idea that will rock your world. If you come next year and don't, I personally will refund your ticket price.
Don't Be Like Sand People
We all know that Sand People ride in single file to hide their numbers. Similarly, we tend to hide what we create and don't connect with other creatives.
Don't be like Sand People. Get out to conferences with other creatives and those that share passions similar to you.
As believers, we are told in Hebrew 10:24-25 "And let us consider how to stir up one another to love and good works, not neglecting to meet together, as is the habit of some, but encouraging one another, and all the more as you see the Day drawing near."
You will be amazed at what you can learn. Not only will you learn about new topics, but you will learn about yourself. You can realize that you know more than you thought.
One of the benefits of going to my first writer's conference is that I am meeting fellow writers.
Those that I have been meeting are all over the spectrum. Some haven't started a platform yet, some are working on their first book, some are making a handsome living writing, and many are some where in between.
The fascinating thing was how we all had our own strengths and weakness.
I have published Bible studies on the Star Wars movies. I was talking with a woman from Toronto who is a paid executive coach and was in the editing stage of a 90,000 word manuscript on personality types and leadership.
I was intimidated by her. The first person I met at the conference was living out her passion and was getting ready to publish a book that had psychological research and a hefty word count.
After hearing that I had published on Kindle, she began asking me how to publish on Amazon's Kindle.
I couldn't believe it. I was an expert to her since I have experience with it.
Han Was Wrong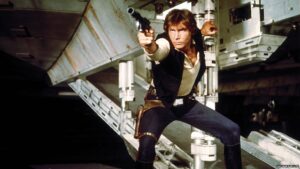 The Day One speakers (Ally Vesterfelt, Sonia Simone, Bryan Harris, Whitney English, Joe Bunting, and Jeremy Cowart) are experts in their topics and have challenged me grow.
Each of them challenged us to work on an aspect of our writing and to share that with those we sat with at our round tables.
I was reminded that "Without counsel plans fail, but with many advisers they succeed." Proverbs 15:22 (ESV).
Being given an exercise to do, by some one that is an expect, and then sharing it with others, provided me with valuable feedback.
Since I relate most things back to Star Wars, Han's quote jumped to mind."We don't have time to discuss this with the committee!"
But we need to take time and discuss our ideas and challenges with others.
We tend to avoid asking for help our counsel- usually to our detriment.
Why?
In Han's case, our lovable scoundrel was prideful and thought he could handle anything.
Many of us are very much like Han. We think we can handle things on our own.
I know I struggle with being humble enough to ask for help. It hurts to admit that I can't do everything.
When do we ask for help?
For me, I usually try to find answers to my questions online. Whether it's a blog post or a YouTube video, I try to find my answer without paying for it.
We live in a knowledge society, so knowledge should be free. And for the most part, we can find the facts and figures we need for free.
What we need to realize however is that we need wisdom and not just knowledge. This is where it pays to put some skin in the game.
When I decided to come to TribeConf, I struggled to justify the price of the ticket and the cost of traveling to Franklin TN from Maryland (airfare, hotel, car rental/taxi). So I decided to drive rather than fly (saving me $250 or so)- but it cost me 12 hours in the car so far (and I still need to drive home).
I redeemed those 12 hours by listening to an audio book and also to some podcasts. I used those hours to tap into other people's knowledge and wisdom.
We all need a place like TribeConf
We all need to go to a conference like Tribe Conference at least once in our life.
Over the years, I have been following various podcasters, bloggers and authors. I was able to interact with them online but nothing compares to spending time, in person with someone.
Having a meal with people allows you to get to know each other better. It also allows for time to discuss life and the lessons we have learned.
As Americans, we tend to celebrate the rugged individual but we need to unlearn that and learn to seek counsel.
We need to build connections with people. We need to seek counsel. We need to not only hear instruction, but put it into practice.
What Will You Do?
Will you join us next year at Tribe Conference?
Will you join me in using Star Wars to share your faith in Jesus? If so, take a moment and get your free sample of two Bible study lessons on Using Star Wars To Share Your Faith.
[contact-form-7 404 "Not Found"]