As a person that grew up Roman Catholic, I am pretty familiar with giving things up during Lent.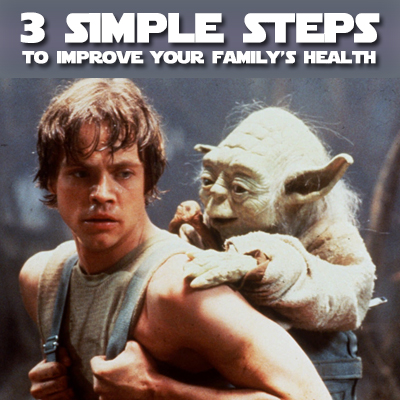 While I no longer identify with that denomination, I did give up something for Lent; EXCUSES for not exercising. So, every day this month, I have gone to the gym and worked out (except for two when the gym was closed).
To fit this in I starting getting up an hour, then 90 minutes earlier than I normally did. I wish I had heard about Dr. Josh Axe before I started this 40-day commitment of mine.
Don't Take Exercise Tips From Yoda
At my annual checkup in January, my doctor told me I needed to lose 20-30 pounds. I knew it, but having a medical professional tell me it made it really sink in.
Since I dislike (HATE) running, I was not about to run. I decided to lift some weights and do the elliptical machine.
In the two months since my checkup, I went to the doctor's yesterday and was done 3 pounds. This after 26 days of doing 30 minutes on the elliptical and lifting every 3-4 days.
That was depressing. That was the type of workout I saw Yoda having Luke do. Lifting objects with the Force might be easier than hammer curls and overhead presses.
3 Simple Steps to Improve Your Family's Health
Thanks to the 7-Day Challenge from Ziglar Family, I've been introduced to Dr. Josh Axe.
If you're like me and haven't encountered him yet, Dr. Axe, is a renowned and respected doctor of natural medicine, a chiropractic physician, and a clinical nutritionist. He also founded one of the leading functional medicine clinics in the country. He's been on various high profile shows like Dr. Oz, CBS, and NBC. He even has his own show on PBS.
In the free video that was released today (March 29, 2017), Dr. Axe shares with you his top 3 simple changes you can make now that will have long-lasting effects on your health and that of your family.
A super-easy breakfast for a healthy kickstart to your day
The most beneficial way you can spend 20 minutes each day
A triathlon you should be doing each morning, and it's not what you're thinking!
Please join us for this free training.
To get the specifics, click here to check out the free video of Dr. Axe's message.
I know that I can made these changes in my life. You've got nothing to lose, and everything to gain! (except weight!)
---
* I am an affiliate for this program. If you purchase the Thrive Membership or VIP Membership, I earn a small commission that helps keep the site up and running.