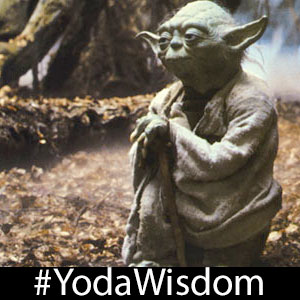 Growing up as a kid in the 80's I had Obi-Wan and Yoda as examples of what Jedi were. They were teachers and philosophers. We heard about their past exploits and adventures, but could only imagine what these actions actually looked like.
When I first saw Yoda in "The Empire Strikes Back", he was a 900 year old puppet and not the kick butt CG character we would see in the prequels. We relied on folk lore that Yoda was a great warrior. It's doubtful that even Lucas had envisioned Yoda jumping all around fighting Count Dooku or the Emperor (Darth Sidious). In fact Lucas thought about using a monkey for Yoda.
As an 80's kid I loved seeing Yoda on screen. From his first meeting with Luke, to the training, and his remorse at Luke leaving. In 1983 when I saw Return Of The Jedi in the theater, I even cried when Yoda died (Hey, I was a kid). This old sage had taught Luke so much. I learned a lot from him as well.
My Top 5 #YodaWisdom Quotes
It's hard to narrow down the wisdom of a Jedi master to just 5 quotes, but here are my top 5.
#5 Much to learn you still have.
Yoda is confronting Count Dooku at the end of Attack of the Clones and Dooku is very full of himself. He claims to be more powerful than any Jedi, including Master Yoda.
Dooku attempts to fry Yoda with Force lightning but Master Yoda catches the lightning and throws it back at Dooku, informing the Count that he still has much to learn.
We should learn that no matter what level we are at, we still can (and should) learn from others.
Brad Lomenick, author of "H3 Leadership: Be Humble. Stay Hungry. Always Hustle.", tells us "Successful leaders have an insatiable appetite for learning."
#4 Ready, are you? What know you of ready?
Luke thought he was ready to begin training to be a Jedi without knowing what he was going into.
Yoda questions Luke underlying assumption, that he knows what he's getting in to and that he is ready.
Many of us think we are ready for things, but probably aren't ready for them.
We might think we are ready for that new job, new relationship, new life, but are we? We should seek out wise counsel before we jump into something new. As the old saying goes, "look before you leap."
#3 Will he finish what he begins?
Yoda wisely asks whether or not Luke is committed to completing what he starts.
The galaxy did not need another half-trained Jedi running around with a pair of Siths. It was bad enough with the Emperor and Vader doing damage to people. A partially trained Jedi would only make matters worse. The galaxy needed a fully trained Jedi to confront and defeat Vader and in turn the Emperor.
Sadly most people do not stick with the "resolutions" they make each year. Close to 75% of people don't even make it a month.
We need to become people that think before we start and complete what we start.
We may trip and stumble along the way, but we need to keep moving forward to our goal.
I think Yoda's next quote, can help us get there.
#2 You must unlearn what you have learned.
Luke's X-wing is in serious trouble. It is sinking into the swamp on Dagobah and with it, any hope of leaving the planet.
After whining about how they'll never get it out of the swamp, Luke is challenged by Yoda when Yoda asks him if Luke has heard any of what Yoda had been trying to teach him.
Luke whines that moving stones around is one thing but moving a star fighter out of the mud is totally different.
Yoda then tells Luke that the only difference between being able to move rocks and star ships is in Luke's mind.
Part of Luke's problem is that he is thinking as a non-Jedi. As someone without the Force as an ally. In Luke's mind, the only way to get a ship out of something like this would require a crane or other piece of heavy equipment.
We too get caught up in old thinking.
Albert Einstein was right when he told us "We cannot solve our problems with the same thinking we used when we created them."
If you are in a place you don't want to be in, you will need to learn to address the problem with different thinking. The thoughts and actions that got you into the mess, are probably not going to get you out of it.
If you want to lose weight, you can not continue to eat like you always have. You can not sit on the couch and not exercise. You need to change.
This applies to jobs, relationships, and life in general. If you keep getting yourself in to bad situations, you need to unlearn your behavior and learn a new way to act.
#1 Do or do not. There is no try.
Luke half-heartily tells Yoda that he will attempt to remove the X-wing from the swamp.
Yoda quickly lets Luke know that his attitude is not acceptable.
This stops Luke cold for a moment. In this time, it seems like Luke has started to pull things together.
This is my favorite Yoda quote of all time. It brings the other 4 under one umbrella.
I will succeed or I won't.
Growing up, "trying" meant that you gave something a bit of effort. It might not be a great amount of effort, but it was something.
Contrast that to "striving" for something.
In striving for something, it meant taking great effort in order to achieve or obtain something that mattered/
In life, we will do something or we won't. Make sure you do what you want and strive to get it done.
Conclusion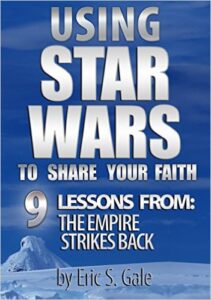 Did you agree with my 5?
Which was your favorite from the list?
What would you add?
Let me know in the comments or on Twitter.