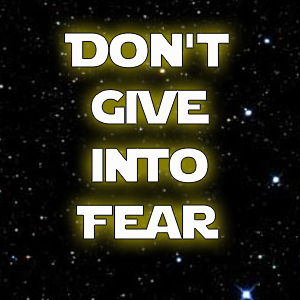 I can't believe that it's been a year since I started writing here.
In the last 12 months I have learned a lot. Learned things I was doing right and things that I was doing wrong (some terribly wrong).
In the 30 or so posts that have released, there have been more than 30 that never saw the light of day. They are still in my notebook or on my phone as a recording.
I could try and justify it by saying I was working on creating Bible studies for each of the movies, which I did.
I could say that I didn't post them since I was busy, which I am. I need to pay the bills.
If I am to be truthful, the real reason they weren't posted is FEAR.
False. Evidence. Appearing. Real.
Fear Is The Path To The Dark Side
Yoda was right when he told young Anaking that "Fear is the path to the dark side. Fear leads to anger. Anger leads to hate. Hate leads to suffering."
Fear of not being good enough.
Fear of not having all the answers.
Fear of spelling or grammar problems.
Fear of being wrong.
These and others kept me from blogging consistently. These also kept me from sharing my faith as often as I could have (I almost wrote "should have" but I'm learning not to beat myself up for not being perfect).
We are reminded in 1 John 4:18 "There is no fear in love, but perfect love casts out fear. For fear has to do with punishment, and whoever fears has not been perfected in love."
We need to remember that we share what we love, what we are passionate about, and what excites us.
A New Shift
Initially I thought that I would write only about how to use Star Wars to share your faith, like I did in the 6 Kindle books I did.
As Obi-Wan tells Luke, "I was wrong."
There is so much more Star Wars can be related to.
Going forward, I want to explore what it means to live as a Jedi today. While the life of the Jedi was not developed in the original 6 movies, there are principles we see them live by that I want to explore over the next year or so.
So in addition to learning how to use Star Wars to share your faith, I want to broaden my posts. I believe that a Christian Jedi is a follower of Jesus, one who teachers truth, and trains the body, mind and soul.
So we will be exploring how the Jedi and Scripture would have us live as it pertains to our bodies, our minds (knowledge and wisdom), and our soul (and the souls of others).
I look forward to sharing more in the weeks, months, and years to come.