Christmas is the time of year that we celebrate the birth of Jesus of Nazareth.
During this season, a lot is spoken of that isn't in the Bible, like there being three wisemen or magi. Scripture lets us know that there were at least two since the Greek word is plural. Tradition teaches that there were three (named Balthasar, Melchior, and Gaspar).
One important truth that Scripture clearly teaches is that Jesus was borne of the virgin Mary.
Star Wars' Take On a Virgin Birth
Like most of Western civilization, the concept of a virgin birth is used in many stories, and Star Wars is no exception.
In The Phantom Menace, Qui-Gon and Shmi are standing outside looking down at Anakin and his friends. Qui-Gon tells Shmi that she should be proud of Anakin because he gives without thinking of getting a reward. Shmi starts to tell him that Anakin has special powers but Qui-Gon finishes her sentence. He informs her that Anakin has Jedi traits and had he been born in the Republic, Anakin would have been identified earlier. This is when Qui-Gon asks Shmi who Anakin's father was and she claims a virgin birth.
The Birth of Jesus
For the record, there is only one real virgin birth. That is the birth of Jesus.
While talking with Shmi, Qui-Gon notes that "The Force is unusually strong with him [Anakin], that much is clear." He then inquires "Who was his father?"
Shmi somewhat sheepishly states "There was no father, …I carried him, I gave birth, I raised him… I can't explain what happened."
This is clearly a statement that makes Anakin's birth a virgin one. Combine this with Qui-Gon's eventual belief that Anakin is the fulfillment of the prophecy and you can see how Anakin is supposed to be some sort of Savior.
In Luke 1:26-38 we see the angel Gabriel visiting Mary to announce that Mary "will conceive in your womb and bear a son, and you shall call his name Jesus." (Luke 1:31)
Like Shmi, Mary was confused.
But unlike Shmi, Mary then asks how this will happen, since she is a virgin (Luke 1:34). Gabriel answers her that this will occur because "The Holy Spirit will come upon you, and the power of the Most High will overshadow you; therefore the child to be born will be called holy—the Son of God." (Luke 1:35)
In verse 38, Mary gracefully accepts this announcement and states "Behold, I am the servant of the Lord; let it be to me according to your word."
There was a purpose for Jesus to be born of a virgin. It was the fulfillment of the prophecy from Isaiah 7:14.
The ESV translates it as "Therefore the Lord himself will give you a sign. Behold, the virgin shall conceive and bear a son, and shall call his name Immanuel."
The prophecy that one (Anakin) would bring balance to the Force pales in comparison to God sending Jesus to redeem the world.
In John 3:16-17 we read "For God so loved the world, that he gave his only Son, that whoever believes in him should not perish but have eternal life. For God did not send his Son into the world to condemn the world, but in order that the world might be saved through him." (emphasis added)
Anakin eventually grows up and falls into evil. Jesus "committed no sin, neither was deceit found in his mouth." (1 Peter 2:22). In Hebrews 4:15 we read "For we do not have a high priest who cannot sympathize with our weaknesses, but One who has been tempted in all things as we are, yet without sin."(emphasis added)
Why Does The Virgin Birth Matter?
The virgin birth matters because the prophecies of Christ anticipated His supernatural birth. We see way back in the beginning, in Genesis 3:15. The verse talks about the seed of the woman, not man. In Isaiah 7:14 "Therefore the Lord himself will give you a sign. Behold, the virgin shall conceive and bear a son, and shall call his name Immanuel."
If we reject the virgin birth, we reject God and call Him a liar since Scripture is His revealed Word to us (see 2 Timothy 3:15-17).
Conclusion
Remember, the only true virgin birth occurred nearly 2000 years ago in Bethlehem when Jesus the Christ was born.
Jesus' virgin birth is the beginning. His perfect life, death and burial are the middle. His Resurrection brings us the ultimate gift. Salvation.
Will this be the day you accept Him as your Lord and Savior? The day you receive the gift of eternal life?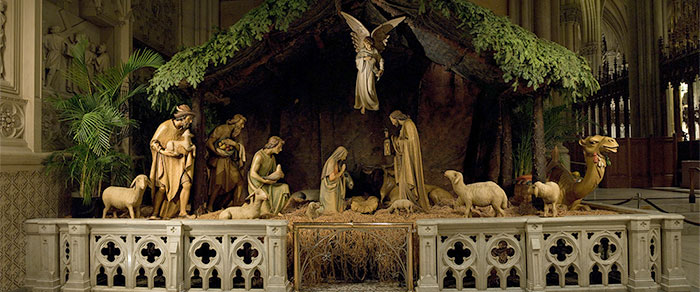 This post was originally published in my Kindle Bible study "Using Star Wars To Share Your Faith: 8 Lessons From The Phantom Menace".(Click to view it on Amazon)