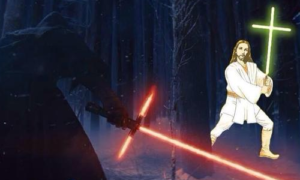 Jesus would probably use the Star Wars story
In the Synoptic Gospels (Matthew, Mark, and Luke), Jesus used more than 40 parables to teach his disciples and the crowds that followed Him. In the Gospel of John, Jesus uses three short allegories to describe Himself (Bread of life John 6:31-38, the Good shepherd 10:1-18, and as the Vine 15:1-17).
Parables and Stories
The use of parables and stories was not a new style of teaching that Jesus created. He was using a style that His first century Jewish disciples would understand.
Rabbis in that time would share life with his followers. The followers would see what their teach did in every day situations and thus learn how they should act.
At times, the rabbi would be asked questions by his disciples and unlike modern professors, they did not give a dissertation, but either responded with another their own question or shared a story that he would explain to his disciples. We see Jesus respond to a question with a question more than two dozen times (i.e.Matthew 9:14-15 and 15:1-3; Mark 2:1-11 and 4:10,13; Luke 10:25-26 and 12:41-43; John 3:4,10 and 18:33-34).
According to FollowTheRabbi.com, more than 3,500 parables from >first century rabbis still exist.
The Rabbis of the day would also use a technique called "remez" or hint.  The hint would be given by using a part of a Scripture passage in discussion assuming their audience's knowledge of the Bible would allow them to deduce for themselves fuller meaning.
Why did Jesus use parables?
Jesus used parables and questions for a couple of reasons. One being that is what His audience would expect from a rabbi.
The second being that it was the will and pleasure of God the Father to give the knowledge of divine mysteries to some, and not to others (Prov. 25:2)
In Matthew 13 Jesus is asked by his disciples why he spoke to the crowds that had gathered in parables. In verses 11 through 17 (ESV) we read His reply:
11 And he answered them, "To you it has been given to know the secrets of the kingdom of heaven, but to them it has not been given. 12 For to the one who has, more will be given, and he will have an abundance, but from the one who has not, even what he has will be taken away. 13 This is why I speak to them in parables, because seeing they do not see, and hearing they do not hear, nor do they understand. 14 Indeed, in their case the prophecy of Isaiah is fulfilled that says:
"'"You will indeed hear but never understand, and you will indeed see but never perceive." 15 For this people's heart has grown dull,and with their ears they can barely hear, and their eyes they have closed,lest they should see with their eyes and hear with their ears and understand with their heart and turn, and I would heal them. 16 But blessed are your eyes, for they see, and your ears, for they hear. 17 For truly, I say to you, many prophets and righteous people longed to see what you see, and did not see it, and to hear what you hear, and did not hear it. (emphasis added)
The people could not truly see or hear, so they could not understand. They literally saw Christ with their bodily eyes, but not with an eye of faith. Most of them didn't see Him as the Messiah even though they saw the miracles He did. What they actually saw and heard was the evidence that proved He was the true Messiah but their unbelief kept them from understanding.
Using Star Wars as a Parable/Allegory
There are limits to how far one can stretch Star Wars (or any movie) in using it as a parable or allegory.
The film does not fit nicely into the definition of a parable since it is not a short story. It is a lengthy movie with a lot of intricacies and nuances. It is closer to an allegory since characters in the movies are symbolic.
The fact that the vast majority of Americans are familiar with Star Wars makes it easy to take elements and scenes from the movie and relate them to timeless principles.
Jesus created and used stories to try and explain, among other things, the Kingdom of God and the Father to us. The parables that Jesus used have their limits, but do a great job of explaining spiritual things to mortal man.
Let us look at Star Wars as the beginning of a conversation with people who need to learn more about Jesus and the Bible.
Need Help Getting Started?
For the past 10 years, I've been using Star Wars in various Bible studies.
Many of the Bible studies I lead for our karate classes, use Star Wars to help set the stage for the Scripture we are going to look at.
If you need help, check out my ebook: